The Fourth Installment of the True Detective Series starring Jodie Foster and Kali Reis comes this January.
True Detective Returns
In January 2024 HBO's crime thriller anthology series True Detective will return after almost five years since its last episode. The True Detective series has gone through a few different "phases" in its first three seasons. The nonlinear and action packed first season was a breath of fresh air for crime fans, as season one was one of the best shows of 2014, and the two leads Matthew McConaughey and Woody Harrelson were widely praised for their performances and both received Emmy nominations. Season 1 of the show received and won many different television awards, including a Primetime Emmy for directing. Season 2's installation, starring Colin Farrell, Rachel McAdams, Vince Vaughn and Taylor Kitsch received mixed reviews, but still generally positive. The third season was more of a return to form, with Mahershala Ali and Stephen Dorff leading. Ali was nominated for many primetime awards for his performance, including an Emmy, and the show received positive reviews from critics. Night Country, though, seems a bit different to all three installments, and feels like it will be a breath of fresh air in the True Detective Franchise
True Detective's Newest Installment
If this season of True Detective looks and feels different than the previous three, that's because major changes have been made to bring the show back with a new vigor. Night Country will be the first installment of the series led by women detectives. This series so far has been a very masculine affair, with women so far not having much to do with the crime solving, but mainly to do with the sexuality and violence of the three installments. In the first three, we only see one female detective (Rachel McAdams), flanked by two other males, where her character was not as important to the events of the plot as Colin Farrell's. In this new fourth season, we will see Jodie Foster and Kali Reis teaming up as the detectives in Alaska. The creator of True Detective, Nic Pizzolatto, has relinquished writing and show running duties for Night Country to Issa Lopez, a Mexican writer, director and producer. In what seems like a very distinct choice from the new writer and showrunner, this season will be set in Alaska, while the other True Detective seasons have been in places where the hot environments felt like they were a part of the show. Louisiana, LA, and the Ozarks are all hot places with lots of sun. True Detective: Night Country will take place in Alaska during what we hear in the trailer is "a long night" or a time where they will go completely without sun. 
Plot 
True Detective: Night Country will follow detectives Liz Danvers and Evangeline Navarro (Foster and Reis) as they try to put aside their differences and their pasts and solve a missing persons case of eight different men who disappear shortly before "the long night" in Ennis, Alaska. Not much else is known about the plot so far, as we only have very basic information and the first trailer. In the trailer, we see a setup much like seasons 1 and 2 of True Detective, with police officers interviewing our detectives after the case. This set up was successful in both seasons 1 and 3 as it helped to make sense but also discombobulated the audience as multiple different perspectives of the same story are told on different timelines. The trailer also briefly touches on some sort of shared history between Jodie Foster's Danvers and Reis' Navarro, as they say they should try to put aside their differences and work with each other on the missing persons case.  Just recently, a second trailer was dropped, which delves a little deeper into the details of this new season. It seems Jodie Foster's Danvers might have covered up evidence in a past murder investigation, and the mysterious spirals from the first season look to be back in Night Country. The trailer sets us up for what looks like is going to be another chilling case with compelling characters and storytelling in the True Detective franchise.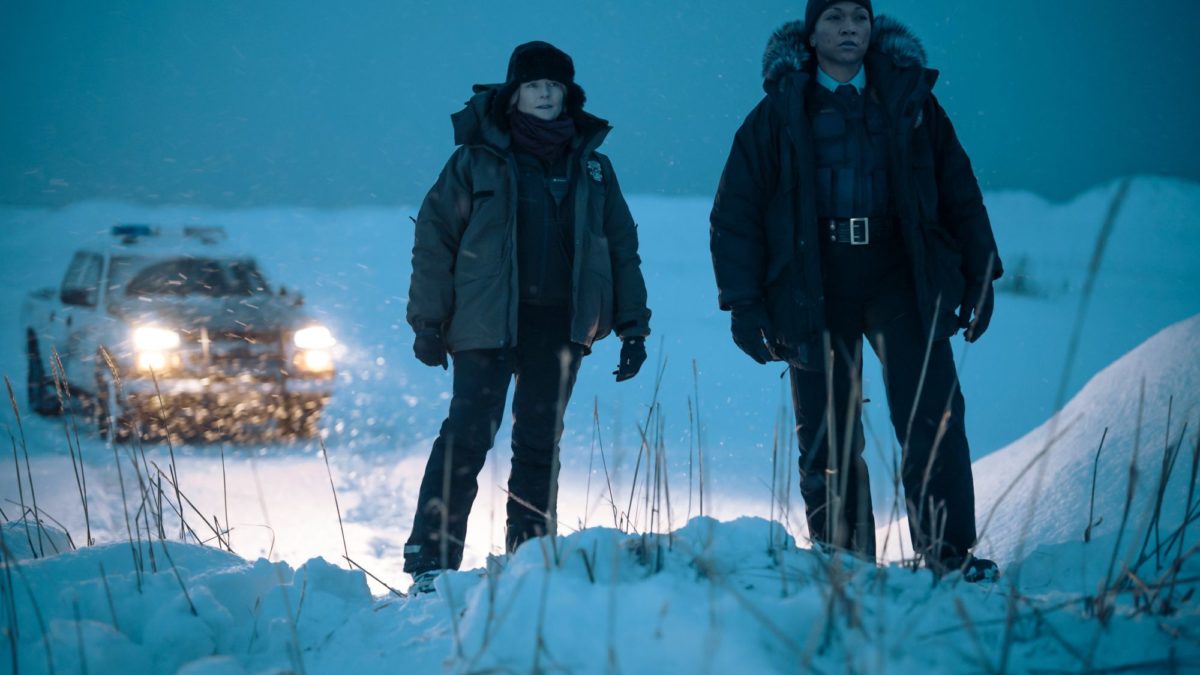 Who's In It?  
Outside of its two lead detectives played by Academy award winner Jodie Foster, and professional boxer turned actor Kali Reis, we've got a pretty stacked cast for the release in January. John Hawkes is in the cast as Policeman Hank Prior. Hawkes is best known for his work in Three Billboards Outside Ebbing Missouri, Deadwood, Eastbound and Down, and his Academy Award Nominated performance in Winter's Bone. Fionna Shaw plays Rose Aguineau, the Irish Actress most known for playing Harry Potter's terrible aunt. Isabella Star LaBlanc is a lesser known actress from Saint Paul Minnesota and a member of the Sisseton Wahpeton Dakota tribal nation. Her career started on the stage and she will be playing Leah Danvers. Christopher Eccleston, probably the most recognizable outside of Jodie Foster, is also in the cast as Ted Corsaro. Eccleston is most famous for being the ninth Doctor Who, and for his role in the HBO drama, The Leftovers, as Matt. 
How Good Can We Expect Night Country to Be
True Detective: Night Country looks to be the old True Detective we all know and love, but with a refreshing spin on the extremely masculine cop stories we have a lot to look forward to. Issa Lopez bringing a woman's voice to both the screenplay and overall vision of the show will be a breath of fresh air. Also, for the first time, the main character(s) will be women as well. Not that McConaughey, Harrelson, Farrell and Ali weren't great, but it's going to be nice having another perspective on the show. Alaska in the dead of winter will be a great setting as well, as we have not yet seen a cold climate mystery yet. There's tons to look forward to, and come January we all hope Night Country can be the best True Detective yet. 
True Detective: Night Country (2024) Official Teaser
You Might Also Be Interested In: